Middlesex by Jeffrey Eugenides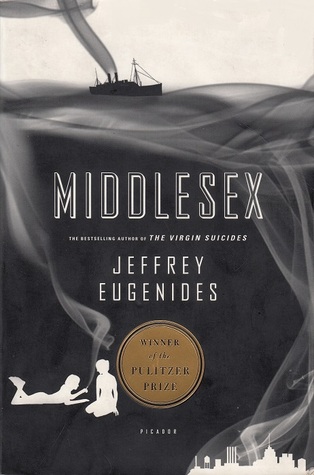 Middlesex by Jeffrey Eugenides
Middlesex tells the breathtaking story of Calliope Stephanides, and three generations of the Greek-American Stephanides family, who travel from a tiny village overlooking Mount Olympus in Asia Minor to Prohibition-era Detroit, witnessing its glory days as the Motor City and the race riots of 1967 before moving out to the tree-lined streets of suburban Grosse Pointe, Michigan. To understand why Calliope is not like other girls, she has to uncover a guilty family secret, and the astonishing genetic history that turns Callie into Cal, one of the most audacious and wondrous narrators in contemporary fiction. Lyrical and thrilling, Middlesex is an exhilarating reinvention of the American epic.
This book took me many, many moons to finish. No one can call me a quitter today! In lieu of a normal review and because I'm lazy, I'll leave my notes as I plodded away on my journey to finish this never-ending book.

February 12, 2008
This is a gripping read. I say that because I have to keep putting it down for various reasons and I haven't felt the urge to put it down for good which is what I usually do when I have to read books off and on for a month. It tells the story of a hermaphrodite or, more correctly tells the story of how he came to be (I'm on page 150 and the narrator hasn't even been born yet). The book is more of a family saga beginning with the history of his incestuous grandparents who escape war torn Asia Minor to travel to America where the brother and sister reinvent themselves and become husband and wife. I haven't read a family saga in ages and they really aren't my thing but the writing here is just so interesting. The historical details, the characters who continually surprise me and the humor keep me coming back to this book when I should be sleeping.
Sometime much later that same year.
I reluctantly admit that I did gave up on this book. I found the early bits about Cal's grandparents fascinating but lost interest as they aged and the focus turned to Cal's successful suburban parents who bored me. Maybe someday I'll pick it back up but for now I've moved onto other things.
Update on May 15, 2015:
Take 2. I'm trying this book on audio this time around and am nearly finished. Yay for audio. It is a very long book, rich in characterization and historical detail and I'm glad I gave it a second chance (actually this is the third chance, I quit it on audio a year or so ago too). It still has its slow bits, which is why I couldn't finish it in paper, but I'll probably be adjusting my rating from a 3 to a 4.
Once I got over the hump of Cal's pre-teen life which stopped me dead both times, the book hooked me again.
My final update:
Whelp, I finished but I can't sit here and say it was all fun and games. This book took some work to finish. I'm sticking with my 3 star rating. In the end, it had moments of interest, moments of tedium and I felt that it was far too long for a book that didn't grab me emotionally. Ah well, many folks love, including Oprah, so what do I know?
View all my reviews