Review: Quick and Easy Family Vegan: No-Stress, No-Mess Recipes that Nourish the Whole Family All Day
by
Melissa King
My rating: 4 of 5 stars
I am not vegan but I usually cook a few vegan meals every week because I love the beasties and I like to pretend I'm healthy. I'm always looking for new, tasty and easy recipes because, honestly, standing on my feet in the kitchen for endless hours after working all day is not my idea of a good time. I'd much rather be sitting on my butt reading a book. But I don't want us eating crap either so the simple title of this book caught my eye.
It starts out with an intro about the authors' sick babies which was a little too TMI for my liking. I kept seeing the word feeding tubes and vomit on the page and had to start skimming – sorry, I'm heartless, I know this, but I wake up to enough grossness every day in my own house and just don't want to read about these kind of nitty gritty details in a cookbook.
There's a list of kitchen equipment and pantry items you'll want to have stocked, if you don't have them already. Some of the kitchen equipment will require a little investment (dehydrator, slow cooker, ice cream maker, spiralizer) but they're worth buying if you do a lot of home cooking. The pantry stuff is pretty much all the basics; applesauce, baking soda, flour, hemp & flax seeds, nutritional yeast, beans, stuff like that. There's nothing too weird or hard to find here, especially if you've ever cooked vegan or vegetarian. I'm thankful that the author has mentioned how to easily make some of the harder to find items like chickpea flour or oat flour or the pricier items like jarred roasted peppers and tomatoes. I always thought I had to buy them but if you have a high speed blender and an oven you can do it for yourself on the cheap. She also gives some handy tips for saving cash in other areas and ideas to save time. You probably already knew that you can extend the life of your cut herbs by placing them in water but I had no idea! I usually let them rot in a dark corner of the fridge.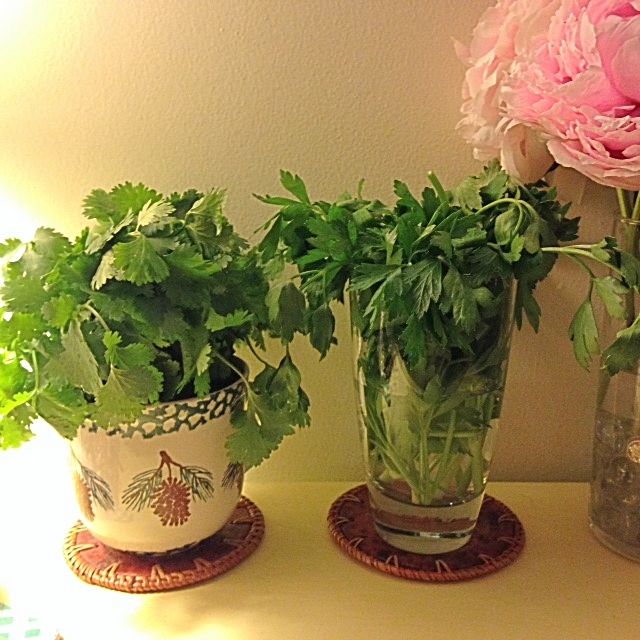 UPDATE:
I've successfully managed to kill those pretty herbs in three days time. Perhaps this tip is only for those without a black thumb.
Now, if you're anything like me, before you spend some hard earned cash on a cookbook you probably want to know that the recipes have actually been tested by real people. It's easy to look at the pretty pictures and ooh and aww over them and write a half-assed review. I can't do that. I want to know these recipes aren't going to make me call the call the pizza guy in a panic because I just made shit stew. There is nothing worse than spending money on a cookbook and ingredients only to have the majority of recipes end in disaster due to errata in the book.
So, being the kind soul that I am, I am bravely putting a few to the test for you and will update this review as I work my way through the book (skipping the things that sound gross to me). Here's what's happened so far.
Apple Cinnamon Quinoa
This is made in the crockpot and smells amazing when it's cooking. My daughter said the house smelled like Fall. I set my cooker to high while plopped myself on the couch to catch up on Preacher for an hour or three. Apparently, my small crockpot was made in Hell and is not to be trusted because after 3 hours all of the liquid was long gone and everything was burnt on the bottom. I'd recommend keeping an eye on this unless you don't mind eating bitter burnt bits.
Here it is after I picked out most of the burned bits.
I have not cut sugar out of my diet so, to me, this tasted a wee bit bland. If I ever were to make it again (and honestly, I probably won't), I'd add in some maple syrup and more liquid and lower the temp. I tried it cold this morning with a little agave syrup and it wasn't too bad but it wasn't too great either. This was kind of a dud for me, truth be told, and most of it is still sitting in a container in the fridge days later.
Cilantro Lime Cauliflower "Rice"
This was so good I almost ate the entire thing myself. It also fooled both my kids and my husband into thinking they were eating some fancy rice from Chipotle. But this is much healthier. It didn't last the night and it made a whole bunch. If you're thinking this sounds rather disgusting (ewww, cauliflower!) try it anyway. I think you'll be very surprised. This is no faux mashed potato cauliflower dish, trust me on this.
Crockpot Corn Chowder
This time I used my trusty, ancient, not made in Hell slow-cooker and had great results. The only mods I made were putting it on LOW for 10 hours instead of HIGH, adding an additional cup of veggie broth (I feared the burn again) and using a full can of coconut cream instead of a can of whole fat coconut milk. It's all I had and I was too lazy to run to the store. This was fantastic, slightly sweet and very hearty. I'd make this again and again and would always use the full fat coconut cream from Trader Joe's. That stuff is heavenly (and good for making ice cream too).
I will update this review as I cook more of the recipes but so far, so good. The recipes are also very easy to make, as promised, and I feel safe in recommending it.
View all my reviews