What's Up Next
Sending out a big thank you to all of you who have submitted review requests to my new blog. Though this blog is new, I have been reviewing for a zillion years and I don't like to make promises I cannot keep, so I will not be responding to any of them until I make my way through my last Netgalley binge (ugh, that place is so dangerous!). It's nothing at all personal, I'm just a slow poke with a job and too many pets. Here's what's up in the queue. I should get through three of them in the next week. As I free myself up, I'll be going through your requests and responding to all that sound like books I'd love. Please don't be offended if you do not hear from me, I have little reading time and have peculiar taste. Thanks a bunch.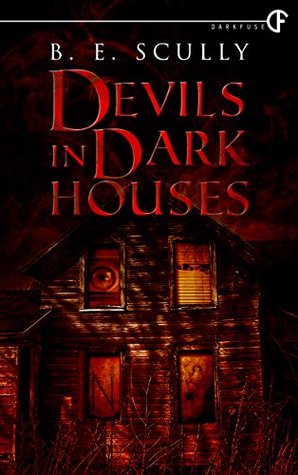 Devils in Dark Houses
featured 4 connected novellas, each a case featuring a pair of old school cops in the Pacific Northwest.
The new millennium is getting downright bizarre. From high tech games of sabotage to vigilante murder and ghosts who may or may not have their own dark agendas, Detectives Shirdon and Martinez must put their 20th century street smarts to work on four 21st century cases in which nothing is what it seems, and every answer reveals more questions.
Case 1: The Eye That Blinds
When three college friends graduate with plans to conquer the world, they find out that the world has its own plans. As their supposed "real" lives spiral further out of control, they retreat into the one place they still reign—the online kingdom of fantasy and masquerade. After a seemingly random accident puts Shirdon and Martinez on their trail, the trio's tangled web of lies threatens to unravel into consequences more real than any of them could have imagined.
Case 2: Each Castle Its King
When Cal and Rachel Goodman flee their high-volume life in Los Angeles for the peace and quiet of rural Oregon, they sink both their savings and their hopes in a fixer-upper the locals call "Blood House." But their dream turns into a nightmare as they discover that their marriage is as cracked and crumbling as Blood House—and hiding just as many sinister secrets. Just when they think things can't get any worse, they meet their next-door-neighbor…
Case 3: Nostri
For sixteen-year-old Emma Kaster, summer vacation is turning out to be as boring and lonely as the school year—until she meets a charismatic street kid named Senz with an obsession for the Roman philosopher Seneca and an itch to put his theories to the test in modern times. What starts out as a series of pranks soon turns deadly as Emma and Senz confront the ultimate revolutionary question—are you willing to die for your beliefs? And just as important, are you willing to kill for them?
Case 4: Devils in Dark Houses
Shirdon and Martinez are on the case of a charismatic, controversial homicide detective whose mysterious disappearance eleven years ago comes back to life in the form of a mentally ill man calling himself the Hound. Not only does the Hound know astonishing secrets, he learned some of them from the long-dead figures of Oregon's colorful frontier past. As the two detectives try to unravel fact from fantasy and truth from lies, the past and present collide in an explosive show-down that will test the detectives' deepest beliefs not just about the world in which they live, but about themselves, as well.
Chills by Mary Sangiovanni
"True Detective" meets H.P. Lovecraft in this chilling novel of murder, mystery, and
slow-mounting dread from acclaimed author Mary SanGiovanni . . .
It begins with a freak snowstorm in May. Hit hardest is the rural town of Colby, Connecticut. Schools and businesses are closed, powerlines are down, and police detective Jack Glazier has found a body in the snow. It appears to be the victim of a bizarre ritual murder. It won't be the last. As the snow piles up, so do the sacrifices. Cut off from the rest of the world, Glazier teams up with an occult crime specialist to uncover a secret society hiding in their midst.
The gods they worship are unthinkable. The powers they summon are unstoppable. And the things they will do to the good people of Colby are utterly, horribly unspeakable…
The Jersey Devil by Hunter Shea
THE LEGEND LIVES
Everyone knows the legend of the Jersey Devil. Some believe it is an abomination of nature, a hybrid winged beast from hell that stalks the Pine Barrens of southern New Jersey searching for prey. Others believe it is a hoax, a campfire story designed to scare children. But one man knows the truth . . .
THE DEVIL AWAKES
Sixty years ago, Boompa Willet came face to face with the Devil—and lived to tell the tale. Now, the creature's stomping grounds are alive once again with strange sightings, disappearances, and worse. After all these years, Boompa must return to the Barrens, not to prove the legend is real but to wipe it off the face of the earth . . .
THE BEAST MUST DIE
It'll take more than just courage to defeat the Devil. It will take four generations of the Willet clan, a lifetime of survivalist training, and all the firepower they can carry. But timing is critical. A summer music festival has attracted crowds of teenagers. The woods are filled with tender young prey. But this time, the Devil is not alone. The evil has grown into an unholy horde of mutant monstrosities. And hell has come home to New Jersey . . .
Boy Meets Boy by David Levithan
This is the story of Paul, a sophomore at a high school like no other: The cheerleaders ride Harleys, the homecoming queen used to be a guy named Daryl (she now prefers Infinite Darlene and is also the star quarterback), and the gay-straight alliance was formed to help the straight kids learn how to dance.
When Paul meets Noah, he thinks he's found the one his heart is made for. Until he blows it. The school bookie says the odds are 12-to-1 against him getting Noah back, but Paul's not giving up without playing his love really loud. His best friend Joni might be drifting away, his other best friend Tony might be dealing with ultra-religious parents, and his ex-boyfriend Kyle might not be going away anytime soon, but sometimes everything needs to fall apart before it can really fit together right.
This is a happy-meaningful romantic comedy about finding love, losing love, and doing what it takes to get love back in a crazy-wonderful world.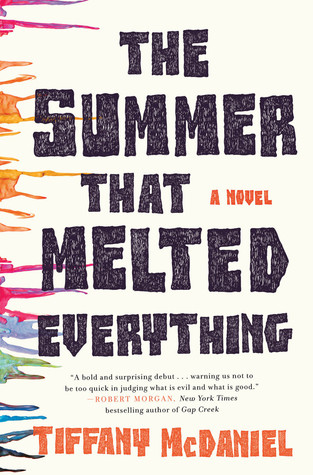 The Summer That Melted Everything by Tiffany McDaniel
lding Bliss has never forgotten the summer of 1984: the year a heat wave scorched Breathed, Ohio. The year he became friends with the devil.
Sal seems to appear out of nowhere - a bruised and tattered thirteen-year-old boy claiming to be the devil himself answering an invitation. Fielding Bliss, the son of a local prosecutor, brings him home where he's welcomed into the Bliss family, assuming he's a runaway from a nearby farm town.
When word spreads that the devil has come to Breathed, not everyone is happy to welcome this self-proclaimed fallen angel. Murmurs follow him and tensions rise, along with the temperatures as an unbearable heat wave rolls into town right along with him.
As strange accidents start to occur, riled by the feverish heat, some in the town start to believe that Sal is exactly who he claims to be.
While the Bliss family wrestles with their own personal demons, a fanatic drives the town to the brink of a catastrophe that will change this sleepy Ohio backwater forever.
Then the insects took over.
Then the madness began . . .
They call it Wanderer's Folly--a disease of delusions, of daydreams and nightmares. A plague threatening to wipe out the human race.
After two years of creeping decay, David Arlen woke up one morning thinking that the worst was over. By midnight, he's bleeding and terrified, his wife is dead, and he's on the run in a stolen car with his eight-year-old daughter, who may be the key to a cure.
Ellie is a special girl. Deep. Insightful. And she knows David is lying to her. Lying about her mother. Lying about what they're running from. And lying about what he sees when he takes his eyes off the road . . .
A Bed of Spices by Barbara Samuel
DANGEROUS TIMES, IRRESISTIBLE LONGINGS....
The exquisite Frederica der Esslingen fled from her father's castle to the herbalist's cottage, vowing she could never give in to her father's wishes and marry the man her twin sister loved. Another man, a stranger forbidden to her, touched her very soul. A man who listened when she spoke...a man with a tumble of black curls and clever lips...He understood her bold, searching heart. Yet he was denied her forever.
A Bed of Spices is a wildly romantic tale of forbidden love set in the turbulent middle ages. Solomon and Rica meet by chance at the herbalist's cottage and fall in love despite the divisions of religion, class, and expectations -- but how can they possibly find a happy ending with so many things stacked against them? Dark, beautiful and ultimately uplifting, this is a romance you won't easily forget.