Rebecca by Daphne du Maurier
Rebecca by Daphne Du Maurier, Narrated by Anna Massey, Gothic Fiction
Last night I dreamt I went to Manderley again....

The novel begins in Monte Carlo, where our heroine is swept off her feet by the dashing widower Maxim de Winter and his sudden proposal of marriage. Orphaned and working as a lady's maid, she can barely believe her luck. It is only when they arrive at his massive country estate that she realizes how large a shadow his late wife will cast over their lives - resenting her with a lingering evil that threatens to destroy their marriage from beyond the grave.

First published in 1938, this classic gothic novel is such a compelling tale that it won the Anthony Award for Best Novel of the Century.
I'm giving this book a 5 out of 5 and this is why:
I read this for the "Classic Horror" square for Halloween Bingo over at Booklikes. Want to join? It's not too late! Click
here.
Because the world needs one more Rebecca review . . .
A shy young lady becomes friendly with a wealthy widower old enough to be her father. When her employer decides to pick up and relocate, Maxim de Winter proposes they marry rather than lose her to her job. She doesn't quite expect this and doesn't quite understand his intentions at first but no worries because he makes things clear, "No, I'm asking you to marry me, you little fool." Soon after, I guess to seal the deal, he calls her an idiot or something like it.
Now tell me, how could a girl resist that kind of romantic proposal?
She fancies herself in love.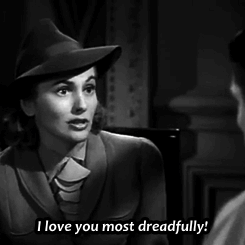 They marry and he whisks her away to his mansion by the sea. It's so fancy it even has its own name, Manderley. From the moment the new Mrs. de Winter arrives at Manderley, she is overwhelmed by its opulence and suffocating feelings of insecurity. She fears she will never be able to live up to the standards set by Rebecca, the former wife. Rebecca was beautiful, outgoing and everybody loved her. Rebecca's presence lingers within every room of the house. Mrs. Danvers, the evil head housekeeper who adored Rebecca, makes matters just about as terrible as she can for the new wife.
I felt so bad for the new Mrs. de Winter. She was young, naïve, cripplingly shy and completely unprepared for the social aspects at Manderley. She feels inferior at every turn and who can blame her? Her husband is overbearing and dismissive and kind of a jackass, if you ask me.
Things are so bad she even compares herself to Jasper, the family dog, when her new husband finally sees fit to give her a little attention, "I was Jasper again." My heart broke for her even as I wanted to scream at her to toughen the hell up.
Even though I thought Maxim was a terrible husband and I wished Mrs. de Winter had a stronger backbone early on, it did not take away from my enjoyment of the story. There is a feeling of dread that hangs over every crevice of Manderley and there are many ugly and juicy secrets that suited me just fine. I can see why this book has become a classic. It's a pretty fabulous gothic and the villain is deliciously villainous!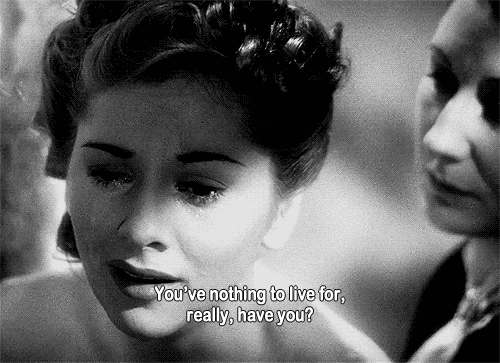 The narrator, Anna Massey, brings the story to life and does an amazing job with all of the characters. There was never any question in my mind about who was speaking or who had just entered a room. Even as the last word was uttered, I was wishing for more and that's not something that happens to me often. I'm the queen of "let's get this thing done so I can move on to the next". Now I can't wait to track down this movie!
Add it
Goodreads
, buy it
Amazon
View all my reviews