Apocalyptic Awesomeness
Joe Hill's The Fireman has inspired me to start a new feature where I'll take my most recently finished read, pick an aspect from it and create a list of other books I've read and recommend that have similar traits. I hope you find it useful and would love for you to add titles in the comments that I've missed and need to get to reading!
Most of the reviews will jump link you to Goodreads until I get everything archived here. In no particular order:
The Fireman by Joe Hill
Death by spontaneous combustion starts killing off the majority of the population! Ugh, what a way to go. People do what people do and start turning on each other and showing their true evil. This book was overly long but the audio read by Kate Mulgrew was fantastic.
See my review
here
.
Meat by Joseph D'Lacey
I read this book several years ago and it
still
haunts me. It is one of the most horrific books on this list. An apocalypse of some sort has occurred and the unlucky survivors are doing what they can to find their next meal. It's ugly and absolutely horrifying and it is one of those books that will linger with you long after you've finished the last page.
See my Goodreads review
here
.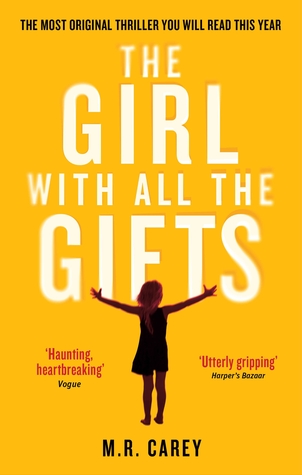 The Girl with all the Gifts by M.R. Carey
This book starts off with a horrible revelation and hooked me from the very beginning. It has great characterization, some well placed sarcasm and as far as I've last heard, is being made into a film. I'll be splurging on a ticket for this one. Let's hope they don't screw it up!
See my review
here.
Blackout by Tim Curran
Blackout is fascinating and gruesome and so realistic it'll probably make your skin crawl. The story starts out all normal-like in a typical neighborhood somewhere in suburbia but then tentacles (omg, tentacles!) start falling from the sky and the world quickly goes all to hell.
See my Goodreads review
here.
Feed by Mira Grant
It's the year 2039. An attempt to cure cancer and the common cold goes terribly wrong and mutations happen that cause a zombie outbreak. This book is memorable for me because of the strong bond between the brother/sister protagonists. It's book 1 of a trilogy but I stopped at book 1 because that's how I operate.
See my Goodreads review
here
.
Botanicaust by Tam Linsey
This story is more scifi than horror. An event coined the "Botanicaust" happened which basically wiped out all edible crops and the survivors have morphed into a few different groups of people who must take drastic measures in order to survive. This is a unique version of the apocalypse worth a read if you're looking for something different and are more into scifi than horror.
Read my Goodreads review
here.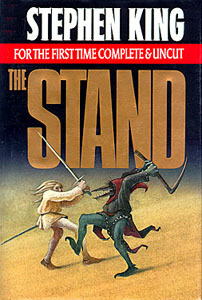 The Stand by Stephen King
Now what kind of list would this be without King's The Stand? A super-flu takes out most of the population and a band of survivors do what survivors do. I read this a million years ago when I was but a kid and hope to one day revisit it on audio when I have a few weeks to spare . . .
Swan Song by Robert R. McCammon
This was another tome of a book I read as a kid (where were my parents?!) but I did recently revisit it on audio and it lived up to all of my memories of its utter brilliance. It's bleak and beautiful and everyone should read it at least once.
Read my Goodreads review
here
.
The Walking Dead Compendium #1 by Robert Kirkman
This collection is grueling, heartbreaking and worth every penny I paid for it. If you love the show and haven't read this, what are you waiting for?
Read my Goodreads review
here
.
The Road by Cormac McCarthy
This is not a feel good tale of the apocalypse. It is one of the bleakest novels on this list and possibly one of the bleakest novels I have ever read but I do not regret giving it a listen on audio. People sometimes say that the format is difficult to get into but I found it worked out fine on audio. At least the version read by Tom Stechschulte who was awesome and amazing. Just make sure you have something funny lined up when you finish because it the ending will gut you.
Read my Goodreads review
here.
The Cell by Stephen King
It's King again. This time the end of the world is set off by cell phones. Lots of people had mixed feelings about this book when it was first released but I enjoyed it. Some of the action also takes place near my hometown so that helped keep my attention.
Read my Goodreads review
here.
The Naming of Parts by Tim Lebbon
This is a smaller, quieter look at the apocalypse but it is no less potent for it. The story is told from the point of view of pre-teen Jack whose current and past fears haunt the story. Unlike most action-packed, gore filled zombie tales this one concentrates mostly on the emotions of its characters. It may be a little hard to find, I had small press copy, but I think it's worth the effort if you stumble across it.
Read my Goodreads review
here.
The Death of Grass by John Christopher
This is the oldest book on my list. It was originally written in 1956 but still packs a potent punch. It starts out a little slow
but once I could see where things were heading every sentence was laden with a sense of dread and impending doom. It should be on every horror fans list of must-reads, if you ask me.
Read my Goodreads review
here.
The Conqueror Worms by Brian Keene
Most Keene fans love and adore The Rising but I prefer this one. The reason for this? The protagonist is a grumpy old "get off my lawn" guy. He's fantastic. The world has been buried under water, most everyone is dead, and if that weren't bad enough giant worms erupt from the ruins! It's a fun ride and so worth a read.
Read my Goodreads review
here
.
The Night Parade by Ronald Malfi
The Night Parade is part road trip, part survivalist thriller, part emotional relationship drama and all parts are good. It'll break your heart but what apocalypse story worth remembering doesn't?
Read my review
here
.
Strain by Amelia Gormley
A military experiment gone awry destroyed most of humanity and turned people into plague ridden monsters called revenants. This is a dark story of survival and isn't for everybody but I really enjoyed it.
Read my review
here
.
Now it's your turn. What awesome apocalypse tales have I missed?!