Review: Her Name in the Sky by Kelly Quindlen
Starts out draggy, ends beautifully . . .
Young Adult, 11+ hours
Audiobook Released April 2017 by Tantor Media
Amazon ♦ Goodreads
Hannah wants to spend her senior year of high school going to football games and Mardi Gras parties with her tight-knit group of friends.
The last thing she wants is to fall in love with a girl--especially when that girl is her best friend, Baker.
Hannah knows she should like Wally, the kind, earnest boy who asks her to prom. She should cheer on her friend Clay when he asks Baker to be his girlfriend. She should follow the rules of her conservative Louisiana community--the rules that have been ingrained in her since she was a child.
But Hannah longs to be with Baker, who cooks macaroni and cheese with Hannah late at night, who believes in the magic of books as much as Hannah does, and who challenges Hannah to be the best version of herself.
And Baker might want to be with Hannah, too--if both girls can embrace that world-shaking, yet wondrous, possibility.
My Thoughts
This book started out so slow for me. Maybe it's because I'm getting old and crotchety but reading about a group of beautiful, popular, well to do, catholic high school students getting reading for parties, ditching classes to get beignets and hanging out and getting drunk was not my idea of a good time. Nah, who am I kidding, it wouldn't have been a good time no matter my age. I've always found this kind of thing boring. Give me messed up people and sticky situations any day. Somewhere along the line, maybe about a third of the way in, feelings started getting complicated and messy and I was finally all in for the angst and I am glad I stuck with it.
Hannah and Baker have always been the best of friends but in-between the pep rallies and beignets, Hannah starts to develop feelings for Baker, feelings she doesn't want and doesn't know how to deal with. She's supposed to grow up and marry a boy. She's not supposed to fall in love with a girl.
Stuff and sexy times happen and that's when things get really messy. Neither Hannah nor Baker are ready to admit that they might be falling in love and start doing what is "normal" and expected and begin dating boys but that only makes things oh-so-much harder for all of them. Oh the angst. I loved it.
It's a raw and painful read and there is a lot of God talk (so if that's not your thing, be warned) and the kids, as kids will do, make terrible choices that cause them so much inner torment. But it's honest and the characters always felt real. Hannah, especially, feels incredibly genuine as she lashes out at those closest to her because she is in such a state of anguish over her feelings. Feelings she can't share with anyone out of fear of being looked at differently. She tries in vain to wish it all away but life is never that easy.
I'm glad I stuck with the story, despite the draggy beginning, because it turned out to be a beautifully written book.
Narration Notes: Piper Goodeve has a youthful voice that suited both the female and male characters which is quite a feat. I always knew who was who even though there were many characters in their little circle of friends. If you're into audio, this is a good one!
I received an ARC from Tantor Media. Thanks, Tantor!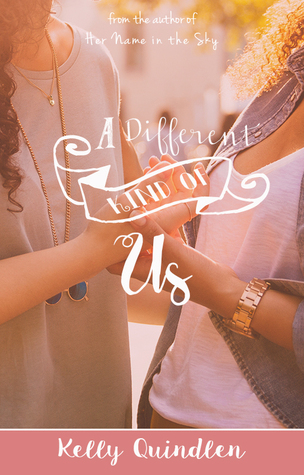 A Bit About the Writer
Kelly wrote her first story, a gripping tale about the Easter Bunny, when she was six years old. She published Her Name in the Sky, a young adult LGBT novel, in January 2014.
You can most easily find Kelly on Tumblr, where she posts all kinds of tidbits related to Her Name in the Sky, including some pretty goopy one-shots that take place after the story ends.
You can also follow her on Twitter @kellyquindlen.
Kelly lives in Atlanta with her sassy cat and dorky chihuahua.
Visit Kelly's website
HERE.