Review: The Well by Marie Sexton
So creepy, so atmospheric, so mysterious and so NOT shitty!
The Well by Marie Sexton
Ghost Story, M/M
Released May 2017
Amazon ♦ Goodreads
Twenty years after prom queen Cassie Kennedy is brutally murdered, six teenagers break into the house where she was killed to hold a séance. Haven knows his cousin Elise only wants to scare the crap out of him and his friends, but he's willing to put up with one of her pranks if it means a chance to spend a few hours with the new kid in town, Pierce Hunter.
But when morning comes, Elise has disappeared without a trace.
Twelve years later, Pierce and his twin brother Jordan are professional paranormal investigators, starring in their own ghost-hunting TV show. When Pierce calls Haven, insisting they return to the supposedly haunted building one last time, Haven reluctantly agrees. He's nervous about seeing Pierce again, but he's determined to get some answers. Did they really speak to Cassie's ghost that night? What happened to Elise? And the biggest mystery of all – how did she know the secret of the well?
My Thoughts
The Well is a perfectly creepy, atmospheric little read for those of you who don't like their horror all up in your face. I'm not going to say it scared me, because books rarely do, but it did build up a dastardly little mystery that did make my skin crawl a time or two.
It's told in two timelines. Twelve years ago Haven is goaded into staying the night at a rumored haunted house by his cousin Elise. It didn't take a lot of goading though because Haven's crush, Pierce, was also attending. He knew nothing was likely to happen either ghostly-wise or with Pierce but off he goes with Elise, Pierce and a few other teens for a night of spooky fun. When Elise decides to throw a séance things take a sinister turn and later Elise disappears.
The other timeline is set in the present day. Since that fateful night, Haven has been haunted by the loss of his favorite cousin Elise and spent most of his youth believing one of the teens present that night committed murder and has distanced himself from them. He's become a horror writer to excise those demons but hasn't kept in touch with his old group of friends – until now. Pierce, now a tv ghost hunter, has returned to town to do a segment on the vacant house and he wants Haven to participate. Old lusts are reignited as well as old suspicions . . .
There is a little romance here so if you don't like that sort of thing invading your horror fiction you have been warned. Mostly this book is a slow burning murder-mystery with a side helping of ghostliness. I enjoyed watching it all unfold and especially loved the ghost-busting segment where scary sh*t actually happened! It kept me guessing and had just the right mix of thrills, atmosphere and engaging characters.
I received a copy of this book from Netgalley courtesy of author Marie Sexton.
Another Book I
♥
by Marie Sexton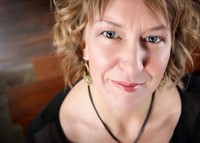 A Bit About the Writer
Marie Sexton lives in Colorado. She's a fan of just about anything that involves muscular young men piling on top of each other. In particular, she loves the Denver Broncos and enjoys going to the games with her husband. Her imaginary friends often tag along. Marie has one daughter, two cats, and one dog, all of whom seem bent on destroying what remains of her sanity. She loves them anyway.
Visit Marie's website at
http://www.MarieSexton.netvisit