Horror Review: Burnt Offerings by Robert Marasco
This is an oldie worth reading.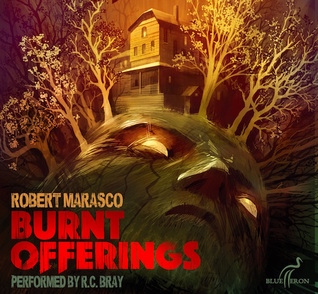 Burnt Offerings by Robert Marasco, Narrated by R.C. Bray
Haunted House, Audiobook 7+ Hours
Released March 2016, Blue Heron Audio
Amazon ♦ Goodreads
Ben and Marian Rolfe are desperate to escape a stifling summer in their tiny Brooklyn apartment, so when they get the chance to rent a mansion in upstate New York for the entire summer for only $900, it's an offer that's too good to refuse. There's only one catch: behind a strange and intricately carved door in a distant wing of the house lives elderly Mrs. Allardyce, and the Rolfes will be responsible for preparing her meals.
But Mrs. Allardyce never seems to emerge from her room, and it soon becomes clear that something weird and terrifying is happening in the house. As the suspense builds toward a revelation of what really lies behind that locked door, the Rolfes will discover that their cheap vacation rental comes at a terrible cost....
Marian is a 70's housewife and she is tired of city life and coerces her husband, Ben, into checking out a summer rental with a beach that is far from the sweltering heat, stink and noise of the city. He says it sounds too good to be true and whines, "but honey, we can't afford it". But he caves. Should've stood your ground, man!
The rental turns out to be a giant estate on 200 acres. There are 30 rooms and all they have to do is pay $900 for the summer and leave "Mother" sustenance three times a day. Ummm, what? Yes, Mother is staying! Apparently, Mother doesn't leave her room and will be no trouble at all as long as you keep to the feeding schedule or so say the weird brother and sister who are renting the place and who skedaddle out of town leaving no contact information as soon as the couple agrees to rent the place.
Marian immediately takes to the home as if it were her own, obsessively preparing meals for Mother and cleaning and fretting (which sounds like a vacation in Hell to me) while Ben, his aunt and their young son fritter away their days in the sun. But that doesn't last long. Soon enough eerie events start to occur and Marian's obsession with the house intensifies. They can try to escape but the house wants what it wants!
This was an unnerving listen that allows the dread to slowly build. It is read expertly by R.C. Bray who is perfect for this kind of old-timey story. His voice is so serious and wizened just enough to set the scene and make the words even creepier. But, folks, it was written in the early 70's and its 70's roots are definitely showing in some of the dialogue.
"I'll do the talking. Just look pretty and keep your mouth shut."
Ben says this to Marian and she doesn't punch him the face.
At another point Marian says (out loud, mind you) to Ben,
"You know I'm the dumb one."
He accepts this as fact and again does not get punched in the face and they move along with their day.
Ahhh, the 70's. I am so very glad I was too young to have to deal with this WTFery!
If you like haunted houses and haven't listened to this story on audio, what the heck are you waiting for?
There is a terrifying movie that scared the crap out of me as a kid. You can see it here: