Got My Eye On, March 2018 (2)
Need more books? Maybe something here will tempt you the way it did me :)
I saw a post over at
Mailbox Monday
that was encouraging readers to share their best finds of the week via their
Books That Caught Our Eye
posts. I love, love, love that idea so this is my warped version of it.
Please take a moment to visit my lovely enablers if you want to be as broke as myself!
The Girl From the Well by Rin Chupeco
Daniela says:
"
OH, CALAMITY. You discover you aren't the baddest ass in town! There is something eviler! So, you say: bring it on ! Evil Japanese yūreis cat-fight!
"
Here's what it's about:
You may think me biased, being murdered myself. But my state of being has nothing to do with the curiosity toward my own species, if we can be called such. We do not go gentle, as your poet encourages, into that good night.
A dead girl walks the streets.
She hunts murderers. Child killers, much like the man who threw her body down a well three hundred years ago.
And when a strange boy bearing stranger tattoos moves into the neighborhood so, she discovers, does something else. And soon both will be drawn into the world of eerie doll rituals and dark Shinto exorcisms that will take them from American suburbia to the remote valleys and shrines of Aomori, Japan.
Because the boy has a terrifying secret - one that would just kill to get out.
The Girl from the Well is A YA Horror novel pitched as
"Dexter" meets "The Grudge"
, based on a well-loved Japanese ghost story.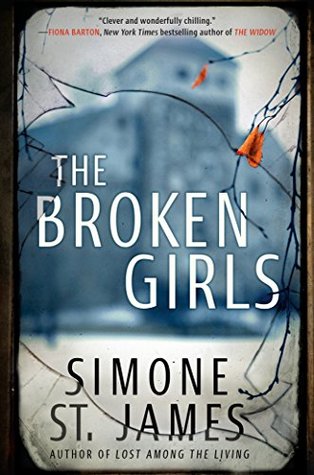 The Broken Girls by Simone St. James
Daniela says:
"
Small run-down town Gothic creepy atmosphere

"
Here's what it's about:
A suspense novel from the award-winning author of The Haunting of Maddy Clare...
Vermont, 1950. There's a place for the girls whom no one wants--the troublemakers, the illegitimate, the too smart for their own good. It's called Idlewild Hall. And in the small town where it's located, there are rumors that the boarding school is haunted. Four roommates bond over their whispered fears, their budding friendship blossoming--until one of them mysteriously disappears. . . .
Vermont, 2014. As much as she's tried, journalist Fiona Sheridan cannot stop revisiting the events surrounding her older sister's death. Twenty years ago, her body was found lying in the overgrown fields near the ruins of Idlewild Hall. And though her sister's boyfriend was tried and convicted of murder, Fiona can't shake the suspicion that something was never right about the case.
When Fiona discovers that Idlewild Hall is being restored by an anonymous benefactor, she decides to write a story about it. But a shocking discovery during the renovations will link the loss of her sister to secrets that were meant to stay hidden in the past--and a voice that won't be silenced. . . .
The Spellbook of Katrina Van Tassel
Barb featured this book on her Can't Wait Wednesday post and had this to say:
"
I just discovered this one this week and basically I can sum up why I can't wait in two words...SLEEPY HOLLOW!"
Here's what it's about:
When Ichabod Crane arrives in the spooky little village of Sleepy Hollow as the new schoolmaster, Katrina Van Tassel is instantly drawn to him. Through their shared love of books and music, they form a friendship that quickly develops into romance. Ichabod knows that as an itinerant schoolteacher of little social standing, he has nothing to offer the wealthy Katrina – unlike her childhood friend-turned-enemy, Brom Van Brunt, who is the suitor Katrina's father favors.
But when romance gives way to passion, Ichabod and Katrina embark on a secret love affair, sneaking away into the woods after dark to be together – all while praying they do not catch sight of Sleepy Hollow's legendary Headless Horseman. That is, until All Hallows's Eve, when Ichabod suddenly disappears, leaving Katrina alone and in a perilous position.
Enlisting the help of her friend – and rumored witch – Charlotte Jansen, Katrina seeks the truth of Ichabod Crane's disappearance, investigating the forest around Sleepy Hollow using unconventional – often magical – means. What they find forces Katrina to question everything she once knew, and to wonder if the Headless Horseman is perhaps more than just a story after all. In Alyssa Palombo's The Spellbook of Katrina Van Tassel nothing is as it seems, and love is a thing even death won't erase.
The Embraced Series by Kerrelyn Sparks
Carol posted her review for this book
<------- which is #3 in a series and, of course, now I have to read them all!
You people need to stop doing this to me!!
Here's what the series is about:
Game of Thrones meets The Princess Bride in this paranormal/fantasy series with romance, humor, action, adventure, more romance, suspense, swordfights, a medieval-type world, heroes who can parkour, lots of laughs, and even more romance.
The series is set on a different world—a world with humans, dragons, elves, shifters, and the Embraced. Who are the Embraced? This world happens to have two moons, and twice a year, the two moons eclipse (or as the people there say, embrace). Any child born on those nights will have some kind of paranormal power. They are called the Embraced.
The kings of this world consider them a threat. After all, the Embraced have powers that the kings can never have. So the kings dispatch assassins to kill them. Obviously, if you're Embraced, you want to keep it secret! But what happens if you need to use your supernatural power?
Here's the other two in case you're weak like me:
Did you find something irresistible during your blog perusals this week? Please share! We all need more books, right?