Rotters by Daniel Kraus
This review is spoiler-free (unlike the blurb on goodreads)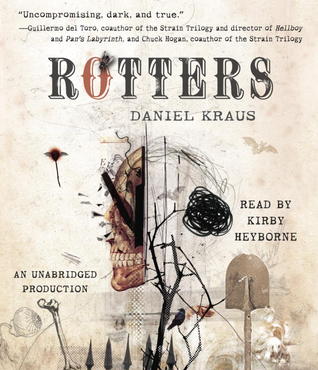 Rotters by Daniel Kraus, narrated by Kirby Heyborne
Horror Fiction
Released April 2011
Amazon | Goodreads | Better World Books
Daniel Kraus's masterful plotting and unforgettable characters make Rotters a moving, terrifying, and unconventional epic about fathers and sons, complex family ties, taboos, and the ever-present specter of mortality.
My Thoughts:
Do yourself a favor and do not read the synopsis for this book. I deleted all of the spoilers so you are safe here. For some reason, marketing decided to spoil the first part of the book in the very first words of their blurb. I can only guess at why they did it (to hook people in? to lure them with the taboo?) but for me it spoiled much of the mystery surrounding the first few chapters of the book. I would've liked to have figured things out myself. I don't usually whine about spoilers because I forget things easily but this is one time I wish I could go back and unread something.
I read this unabridged version narrated by Kirby Heyborne who does a mighty fine job with the dark, seedy, crazed characters who inhabit this story. He also gets the teens down just right in all of their confused, upset, grief stricken, mean-spirited and vulnerable moments. I always knew who was "speaking" and after reading many audiobooks I've realized this is a skill that only a small, talented few possess. Kirby's narration added another dimension to the story and kept me listening even through some of the sloggier moments.
Without giving too much away, this book is about a 16 year old boy named Joey. Joey lives a sheltered life with his mom. He gets straight A's, plays in the school band and has a best friend. He's basically a normal, well-adjusted kid. But then tragedy strikes and he's forced to leave everything familiar behind to live with a father he's never met. Joey's life pretty much goes all to hell from this moment on. There is a huge mystery surrounding his father (which all the blurbs spoil – DON'T' READ THEM!). His father comes off as an uncaring, mentally unstable, strange guy who neglects Joey and makes his life extremely difficult. As the story unfolds we realize there's a lot more to him and all of the strange behavior begins to make sense.
This book was dark and dirty and quite mean and I could not tear myself away from it even when things got a little slow here and there. I had so many questions I needed answered and by the end, they were all answered! I found Joey to be a well-developed and sympathetic character. He evolves into a different person when he is forced to adapt to a situation that is disturbingly strange and he manages to hold it together better then I could've at his age. Many reviews seem to be bothered by the fact that Joey didn't seek out any sort of outside help regarding the bullying but I understood his tendency to endure and deal with it all himself. It's hard to read though and probably isn't a book for everyone.
I thought the underlying story-line was unique. It blends the nightmare of high school with the real life horror that awaits Joey when he arrives at his dad's shack and learns his secrets. It's about humanity, impulse, wanting to belong and to be loved and accepted while being forced to hide in the shadows and shun society. There is an odd cast of characters inhabiting the pages; outsiders by choice, some mentally unstable, and some on the edge of insanity. It was fascinating reading about these people. The end goes a bit too over the top suspense-wise for my liking with a big storm of the century adding tension to an already tense confrontation. But that's just me. I don't care for action scenes overmuch. Despite those minor nitpicks, this is an audiobook worth picking up if you don't mind reading about some things that might turn your stomach.